Q&A with Peter Long, Mayor of Karratha, WA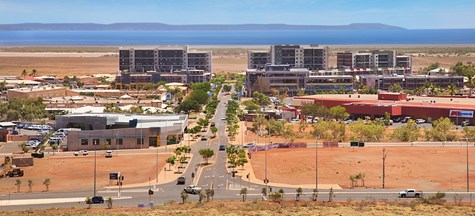 Q&A with Peter Long, Mayor of Karratha, WA
When it comes to power, people and persistence, Australia's northern regions have plenty of plans in store for a rich and rewarding future.
We got the chance to speak with Peter Long, Mayor of the City of Karratha, WA, in which we discussed the importance of developing our northern regions, future plans for Karratha and what people can expect when attending the destination hosting the 2019 Developing Northern Australia Conference.
Q:Why is helping to develop and change regional development in Northern Australia so important?
A: It's important for a number of reasons. Firstly, it increases the wealth of the nation. The northern part of Australia develops much more wealth ahead of population than in the south. Secondly it relieves the population stress on the capital cities which are struggling now having to provide infrastructure.
It also provides a better lifestyle than when you're stuck in the big cities – if you're in the regions you can easily afford a nice block of land and a house so liveability is increased – and finally, I think it's good for the security of our nation to have people spread around the country so I think it's better from a security point of view too. There are a whole range of reasons why we should be developing the north.
Mayor Peter Long
Q: What do you envision for the future of our northern regions?
A: I think the population will continue to steadily increase – it goes up and down based on the various cycles with tourism and also with the mineral and commodity prices, but I do envisage that it will keep on growing, that there will be more people living there and that the infrastructure will be maintained and made better because its so
important to our nation and it's close to Asia so we can export much more readily. All those reasons mean we will steadily increase in importance to the rest of the nation, but I don't think it will be a big boom – I don't think it will happen quickly.
Q: How do you believe Karratha best represents Australia's north?
A: Karratha represents the dichotomy of the north in that it's quite wealthy but it's remote. It's a very young town but communications are an issue. Karratha, like the rest of the north, suffers from a lack of roads and airfares that are of reasonable price so that's what we suffer with in the north. Although we have great port facilities because of the minerals industry in Karratha, we also have an underdeveloped agricultural sector, so there's a lot we can do in agriculture in the north too.
So, Karratha is really a microcosm of the north and I think when the 2019 Developing Northern Australia Conference is there it will be great for people to see what's happening. It's a wealthy town, there's a lot happening and I think it will be good as a representation of the north in general.
Q: What challenges do you believe we face in the northern areas of Australia?
A: The challenges for northern Australia are the tyranny of distance.
City of Karratha
We are a long way from anywhere, our roads are inadequate, our airfares are few and far between and they're very expensive – even our digital communications is not nearly as good as it occurs in the city so that's one of the big challenges. We need to invest in infrastructure to improve our liveability, to build better roads, more airports – even subsidising airfares – and if we do that, more people will go and live in the north and it will actually generate more wealth. That's the challenge ahead of us – infrastructure and investment.
Q: What can we expect from Karratha in 2019?
A: Karratha is a very young town – there's a lot of enthusiasm there for developing the north and we have a lot of innovative new industries. For example, we're trying to start off various types of new agriculture – oysters and wagyu beef – through irrigation. We're doing some other innovative projects like the removal of magnesium from sea water.
We've just opened a mercury extraction plant – the only one in Australia, and the solar farm is enormous – it could be a fantastic new investment for Australia going into the future. Totally sustainable. People with see the billions of dollars of infrastructure that's been invested in Karratha in the last 30 years – it's quite incredible – and it's also a beautiful town – there's the national parks, very different to this side of the country. It's drier over the other side but very dramatic scenery, so I think people will find it different but really quite remarkable.
Have your say on the future of northern Australia!
Abstract submissions for the 2019 Developing Northern Australia Conference are now open. Discover the topic highlights on offer, and place yourself before an audience of like minded industry professionals passionate about the future opportunities our northern regions hold. Find out more here.